Erasmus + KA102 Project: Internship for Medium-Level Students
This project deals with the exchange of students from IES Ribera del Tajo, for three weeks with a centre in Cork City, St. John's Central College, in Ireland, for the following activities:
Training and Practical Activities in Work Centres
This includes recording attendance, specific technical classes of the knowledge involved in vocational training, language courses and conducting internships in companies. Usually 2 of the 3 weeks will involve practice in a company that allows counting FCT period for the training of the student.
Cultural Exchange
Performing activities will give students experience with the culture of the countries involved in the project. The students can visit museums, gain knowledge of the natural environment and participate in traditional socio-cultural activities.
What is involved?
The departments of Administration, Informatics, Health, English and Spanish have always been willing to collaborate in all the projects involved in relation to the transfer of knowledge from other cultures and languages. These departments will be coordinated by Mr. Iván López Montalbán and the management team of the centre.
Needs
There is a need to open new opportunities in the training of students to help the construction of the European Union, and more specifically to get rid of the language and cultural barriers in the member countries. This will advance the labor integration of students in the environment of the U.E. Students can be involved from other countries in our culture and bring them closer to our language  relegated to the background in the U.E. The languages ​​English, French and German, despite its richness, it is important at world level.
Expected outcome, where and when mobility will be located
The next academic year, a plan is in place to repeat the exchange of students with Ireland. This time though, students will arrive from Ireland in May and  students from IES Ribera del Tajo will leave in March, taking advantage of the period of training in work centres. From our previous experiences in the Erasmus and Leonardo projects, we anticipate that the result will be fully satisfactory for both partners, students and teachers involved.
A Little Info About St. John's Central College Cork
St. John's Central College provides a wide range of Further Education opportunities, from a strong base of creative, vocational and work oriented courses. There is a commitment in the college to excellence in teaching, learning and training, responding to local, national and European needs. This is helped by working in partnership, in a stimulating and supportive learning environment, to enable all students to develop their full potential for life and work.
This college is conveniently located in Cork's city centre, and has an atmosphere all of its own. At St John's, the contrast between what is new about the college and what has been there for a very long time is a welcome feature. The college overlooks and highlights old warehouses in local red sandstone and limestone tucked away in the back streets between Douglas Street and South Terrace.
Cork City is a vibrant, diverse and dynamic city, and has become a favourite for visitors, tourists, students, and job seekers in recent years. It is a lively city, home to 25,000 PLC and Third Level students, and it reflects the youth and optimism of this growing population. Cork is an acknowledged centre of academic achievement and excellence, and the growing input from the Further Education sector has been integral in this process.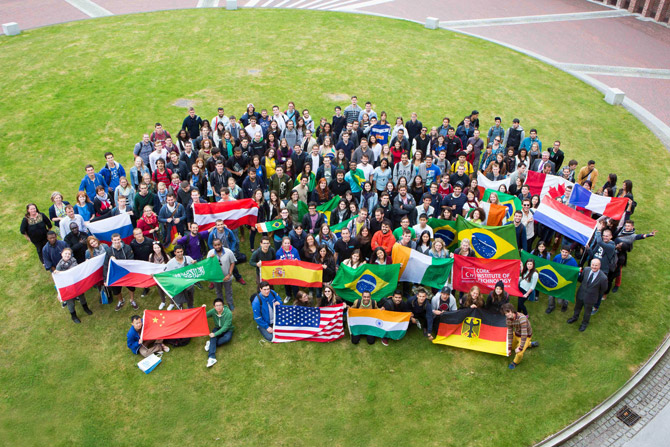 The city has much to offer students as it has plentiful accommodation, improved public transport services, numerous sporting/leisure facilities, and a lively social scene. The improved infrastructure and rail, air and sea links make it one of the most accessible cities in Europe.
Culturally, many of Cork's traditions came together with the city's aim to be a European City of Culture. This has grown and continues to showcase Cork as a small city packed with theatres, film centres, galleries and music venues, from the Opera House to the many clubs and pubs celebrating musical diversity.
As a city built on a river, its fortunes have been linked to the sea. Even now it boasts one of the finest ports in northern Europe.
There is growing awareness of the visual arts with the creation of new galleries and viewing areas displaying local work. So students can enhance their educational experience by taking time out to explore and enjoy the city, 'Rebel Cork'!